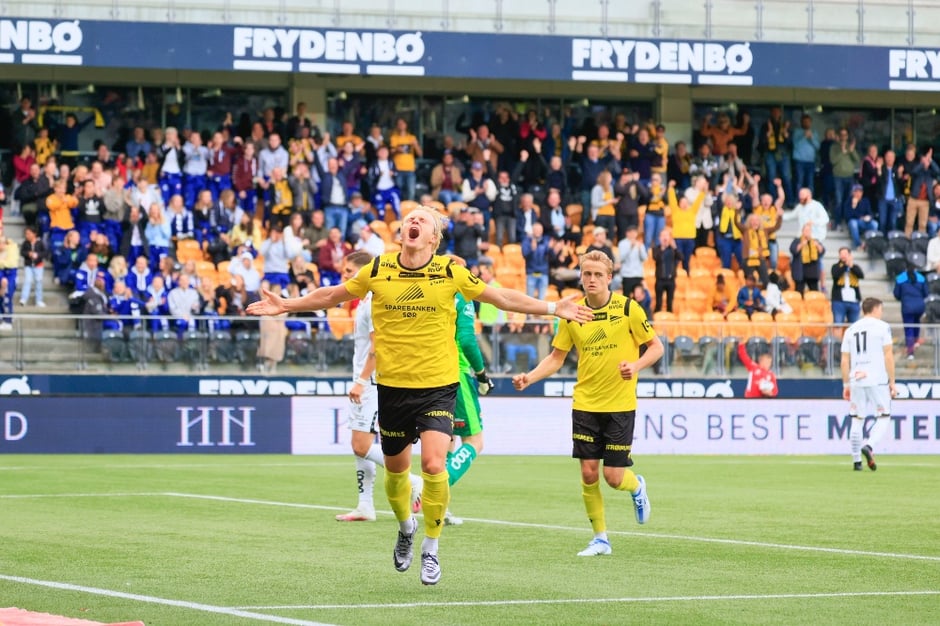 Frydenbø has been a proud sponsor of the yellow jerseys in the southern Norwegian club IK Start since 2015. The parties will continue the cooperation and Frydenbø looks forward to continuing the journey as a Gold Partner.
Main image: Goal celebration in front of the Frydenbø stand at Sparebanken Sør Arena. Photographer: Tor Erik Schrøder.
Frydenbø is present in the communities we operate in
Start's home ground is Sparebanken Sør Arena, located in Torsvika on Lundsiden in Kristiansand. There, spectators can enjoy the match from the Frydenbø stand – the whole length of the stadium.
Frydenbø Bil has great car centers in Mandal and Kristiansand. Through Frydenbø Marine, the boat brands Sting, Nordkapp and Zodiac are distributed with Mercury on the stern to a solid dealer network along the coast.
- As a responsible and enthusiastic commercial operator in the community, we want to be present and support the local communities in which we operate. We have great car centers in Mandal and Kristiansand, in addition to distributing a lot of boats in Southern Norway. It is therefore quite natural to be connected to one of the largest sports arenas and sporting experiences in this region," said Silje Ulla-Zahl, Marketing and Communications Director for the Frydenbø Group.
In 2021, Frydenbø and Start agreed to further expand their collaboration starting in the 2022 season. The Frydenbø stand was re-decorated with a new Frydenbø profile in blue and white, and is ready to accommodate many enthusiastic spectators.
- We are proud to have expanded our cooperation with IK Start and look forward to being part of the future journey with the goal of playing in the elite series in the near future," Ulla-Zahl continued to say.
Frydenbø Bil appreciates being part of IK Start's network arena
Frydenbø Bil is the prime mover in the collaboration, which is not just about exposure on the Frydenbø stand. The agreement also includes participation in the club's network arena.
- We at Frydenbø Bil are very pleased with the Start network, where we have gained many new customers and partners," said Sondre Hansen, general manager at Frydenbø Bilsenter in Kristiansand.
Start aims to create arenas and meeting places for small and large supporters. They have recently developed a new matchday concept that, among other things, brings together craftsmen and players from the construction industry.
- Such an initiative is particularly useful for us, as these players are in the target group for the car brands Renault, BYD and Maxus, which are newer brands in our portfolio and have great affordable commercial cars," said Lars Bore, general manager at Frydenbø Bilsenter in Mandal.
Both Bore and Hansen agree that Sørlandet absolutely needs a football team in the elite league, and emphasised that Frydenbø wants to contribute to that – so that Start will soon be back where they belong.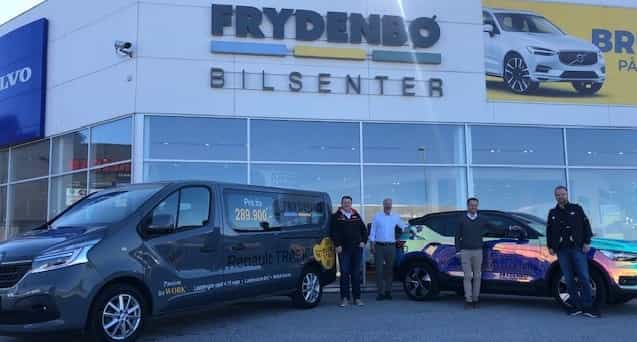 PHOTO: From the left: Lars Bore (General manager for Frydenbø Bilsenter Mandal) Øystein Thommesen (Sales manager for Frydenbø Bilsenter Kristiansand) Sondre Hansen (General manager for Frydenbø Bilsenter Kristiansand), Lars Gunnar Andersen (Sales manager for IK Start).
About IK Start
Vision: IK Start wants to inspire children and adults in Southern Norway to believe in and realise their dreams and visions.

Values: Cohesion – Trust – Attractive – Tough – Take responsibility

Slogan: – Together for the Southern Norway (Sørlandet).