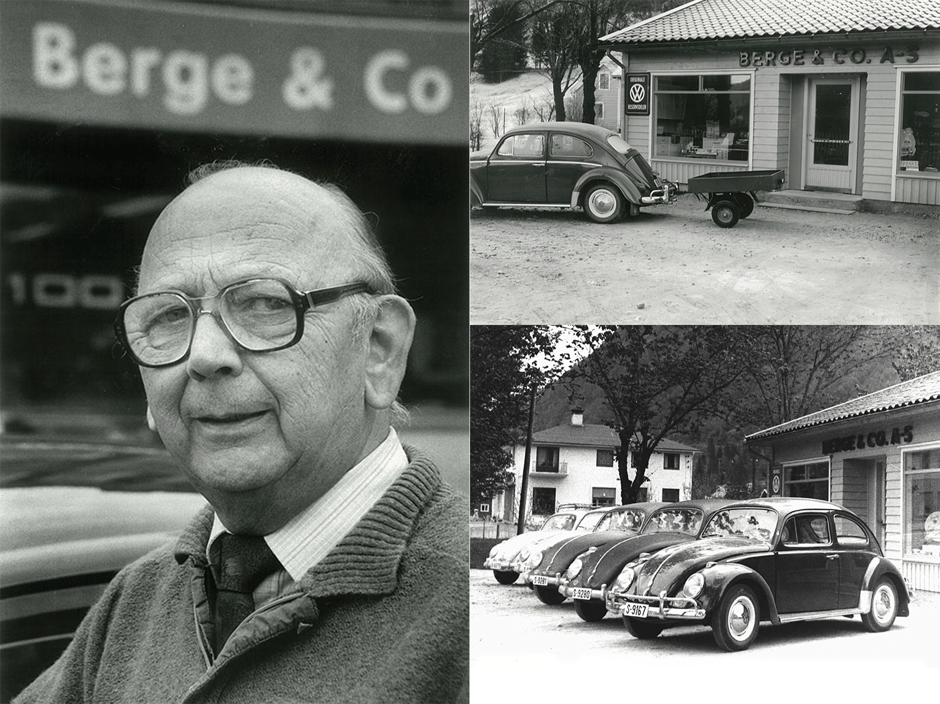 Berge & Co has since the founding day of 20 September 1954 been a family-owned group, and with it follows a long history. In the subsequent 70 years, their dealerships have expanded from selling 3 cars in the first year to around 2000 contracts in 2021. On the ownership side, they started by owning a small shop on Hafstadvegen road in Førde to building several large facilities in Sogn og Fjordane.
It all started with the importer for Volkswagen, Harald A. Møller, considered starting a car dealership in Sogn og Fjordane.
---
Images: Erling Berge (1922-2015). Berge & Co rented premises on Hafstadvegen road, an old barracks building from the days of the war. Photo: Archive, Berge & Co.
The start of the car adventure
On 6 September 1954, Erling Berge (1922-2015) signed a contract with Møller AS to be a Volkswagen dealer in Sogn og Fjordane. Berge & Co AS was founded 14 days later. He had his brother, Knut Berge, and brother-in-law Arthur Øvrebø, on the team. He sold three cars the first year from the rented premises at Trygve Os on Hafstadvegen road in Førde.
Quadrupled the sales in four years
From the beginning in 1954 until October 1960, there were various restrictions on the sale of cars, and one had to have a purchase permit. Not many people had this. Still, it didn't stop Berge & Co from selling! They sold cars everywhere, and sales in Sunnfjord, Sogn and Nordfjord went very well.

The basis for the good operation was clearly the "VW Beetle", but the VW Pickup and vans also made significant contributions to good numbers. Berge & Co were good at acquiring contracts with major companies and craftsmen.
The purchase licence scheme was repealed on 1 October 1960 as car sales increased around the country, as it did at Berge & Co. Until the turn of the year in 1960, they had sold a total of 439 cars. By New Year four years later, they had sold a total of 1900 cars – quadrupling the increase in four years!

Photos: Berge & Co/ Møller
Steady growth and new brands
Car sales increased steadily in years to come, with a formidable peak in 1969 with a total of 630 cars sold. In 1972, Berge & Co was also dealing in Audis, also earning the right to dealerships in Sogn og Fjordane. The Volkswagen Golf came in 1974, which was to become a worthy competitor to the Beetle.
After a decline in 1970, car sales picked up throughout the 1970s. In 1977, Berge also reached a major milestone – 1008 cars sold in one year! The end of the 80s and the bustle of the 90s followed a banking crisis that saw people drowning in debt, high levels of unemployment and a new decline in car sales. In 1999, Berge & Co won the right to sell Skodas in Sogn og Fjordane – once optimism returned to the car industry.


More locations
Berge & Co has over the years grown larger and acquired several more locations in Sogn og Fjordane, in addition to the car dealership in Førde. Berge's dealers had previously spread throughout the county and had various workshops focusing on repairs and maintenance of the cars they sold.
It was time to invest in our own facilities outside the municipality of Førde. First up was setting up in Sogndal. Erling Berge had been in contact with Hagelin about purchasing some land. People in Sogndal thought it was ill-advised for Berge & Co to buy land there, but Erling did not give up. He bought some land and that same year Bergehallen was opened (1972), and the plant was ready in Sogndal
Berge & Co currently has six dealerships in Førde, Florø, Sogndal, Stryn, Måløy and Ørsta, and is a dealer for new cars from Volkswagen, Audi and Skoda – in addition to selling used vehicles.


Read: Frydenbø kjøper Berge & Co og blir forhandlar av Volkswagen, Volkswagen Nyttekjøretøy, Audi og Škoda


Second generation takes over
In 1991, Erling Berge gave up his shares in the company to the second generation of the Berge family. His son, Øyvind Berge, took over as daily manager of the Group. He had his siblings join him in the ownership. In 2000, Øyvind was also appointed manager of Berge & Co AS. The second generation has been operating the company with good margins and turnover for many years, with total renovation of the new car departments and close to 130 employees at the company. Turnover figures for 2021 amounted to 651 million kroner.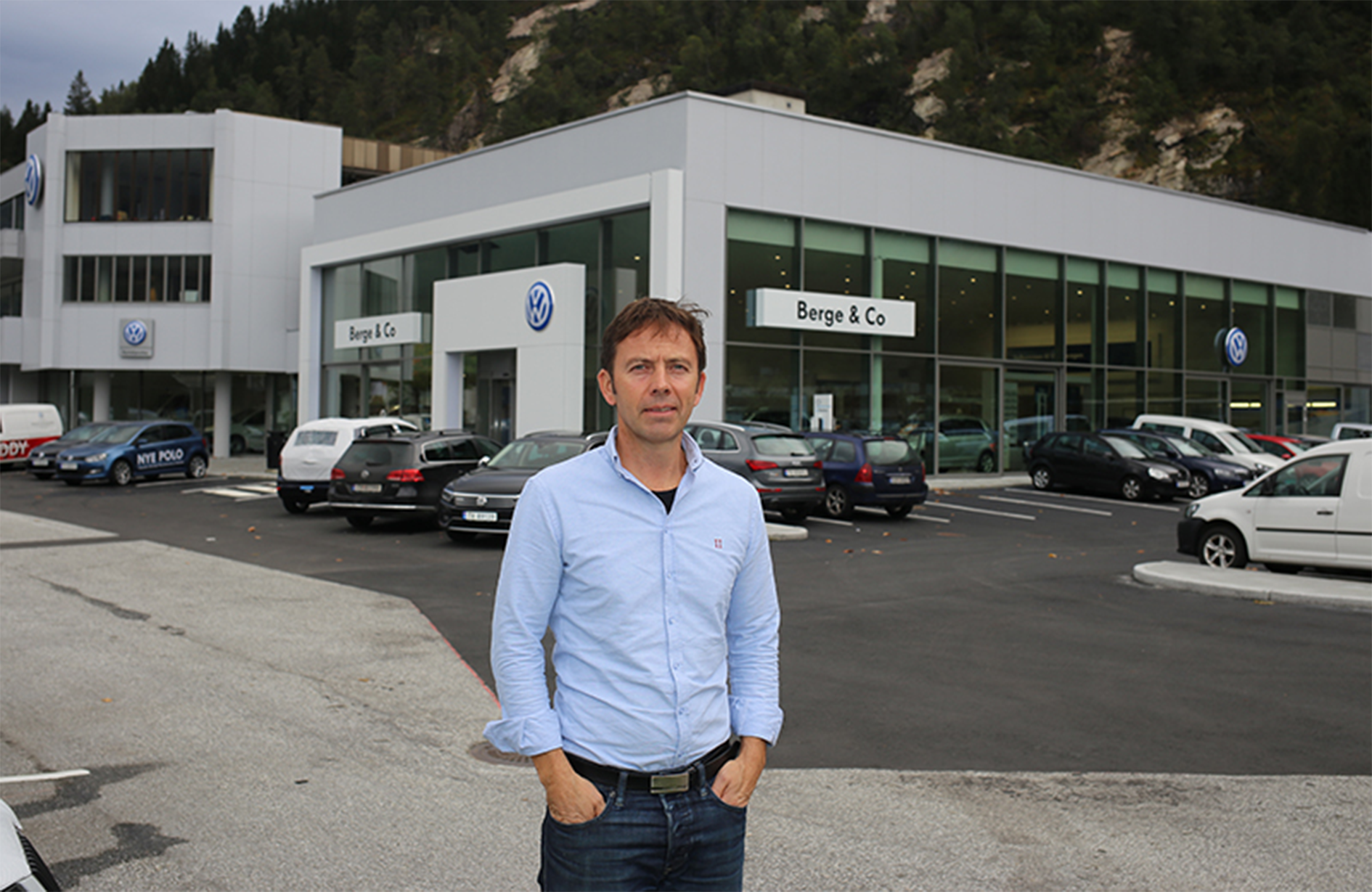 Foto: Berge & Co. På bilete: Øyvind Berge. Etter ei omfattande utbygging og utviding av bygget i Førde, er eit stort arbeid med å skape eit komplett bilvarehus avslutta. Med dette er alle nybilavdelingane ved bilanlegga i Førde, Sogndal og Stryn totalrenoverte for å tilfredsstille dei ulike merkevarene sine nyaste standardar.
Frydenbø acquired Berge & Co in 2022, thereby expanding both its geographical scope and brand portfolio. Berge & Co's history is great and important – Frydenbø respectfully brings this with us in company operations now and into the future.
Parts of the text are taken from the anniversary newspaper for Berge & Co. Responsible: Berge & Co AS, Førde. Text: Inform Media / Tore Fossen. Photo: Berge & Co, Family Berge, Inform Media. Sources: Personal interview, Berge & Co AS' archives, as well as NRK Sogn og Fjordane's county encyclopedia. Idea, production and facilitation: Inform Media, Førde. Edition: 40 000. Printing: MediaTrykk, Bergen. Distribution: Insert in Bergens Tidende.