PRESS RELEASE, 25 AUGUST 2022
Partly Frydenbø-owned MyCar Group is helping to establish Norway's largest chain for car damage and paint repairs.
Some of Norway's largest operators in the automotive industry join forces to form the country's leading car damage repair chain.
INTAKT Bilskade will consist of up to 27 completely or partially owned workshops with a total annual
turnover of up to 700 million kroner. The main operators behind the initiative are Bertel O. Steen (37%), MyCar Group (37%), Motor-Trade (21%), and AB Persson (5%).

The operators are currently the main owners of two car damage repair chains that are now being merged into one new chain. The chain will continue under the name INTAKT Bilskade:

- INTAKT Bilskade has 12 workshops in the chain, five of which are majority-owned and are concentrated in
the Trøndelag region with a turnover of around 220 million kroner in Norway and approx. 70 million kroner in Sweden.
- SKALA Skade & Lakk has eight workshops in the chain, four of which are wholly owned and the rest partly owned with a turnover of approx. 220 million kroner, and in Sandane in the north to Kristiansand in the south.

There is also an intention to include Bertel O. Steen's 7 partly owned damage and paint companies
with a total turnover of approx. 280 million kroner, which is concentrated in South-Eastern Norway.
"This venture will make INTAKT Bilskade Norway's largest automotive damage and painting chain," Thorbjørn said. Myrhaug, Frithjof Anderssen and Erik Diesen at Bertel O. Steen Detalj, Motor-Trade and
MyCar Group.

Covers large parts of Norway
With the SKALA workshops in southern and western Norway, INTAKT in mid-Norway and BOS' part-owned in
South-Eastern Norway, the foundation is laid to become a powerful national chain in the repair and lacquering of automobiles. This gives the chain a geographical spread stretching from Mosjøen in the north to Kristiansand in the south.

The parties have agreed to develop the chain into a national and Nordic entity that will become the leading operator in the car repair and lacquering industry. The ambition is further growth through further development of the regional companies (organic) and through potential acquisitions or mergers with other
company within the same industry.

- The company will operate as a sustainable stand-alone car damage and paint company specialising in the selected brands that it currently represents. The chain shall be a quality supplier of these services and has a clear ambition to be a leader in the recruitment and education of skilled workers," said chairman of the board Frithjof Anderssen.

- We strongly believe in a concept where we establish a comprehensive national chain with close cooperation and commitment by local dealers. Local partners are an important pillar for INTAKT Bilskade to deliver the market's best customer experiences for car damage repair and paint. Now we are building a bigger and more powerful team that will be stronger in the car damage market of the future. We believe this is important for success in the years to come," said Erik Diesen, CEO of MyCar Group.

- In the car damage market, we see the same consolidation trend and intensification of competition as elsewhere in the automotive industry. Sustainable production and used parts will become a competitive arena in the future casualty market. Not to mention the electrification of the car fleet and the changes brought about by new requirements from factories and authorities. The new INTAKT will set the standard in automotive causality/damage/repair/painting and provide services that add value to our customers, partners, employees and owners. INTAKT will become Norway's leading car damage and lacquering chain!" said Executive Vice President at Bertel O. Steen Detalj, Thorbjørn Myrhaug.
Fredrik Karlsen becomes the new leader of INTAKT Bilskade
The headquarters of the chain will continue to be in Trondheim.

- There are a lot of pieces that need to fall into place, so we have a big job ahead of us. Now we are starting to gather Norway's coolest automotive causality, damage and paint chain and uncover opportunities for further growth. This is incredibly exciting!" said Fredrik Karlsen.

Fredrik Karlsen is 41 years old, has led the "old" INTAKT Bilskade for the past 2 years and was a strong contributor in the establishment of INTAKT. He was involved in developing what would become the old INTAKT chain in 2018 in the role of CFO, and has been heavily involved in setting up and building the foundation that is now the INTAKT chain's foundation.

Betting on Smart Repair/PDR
The chain is today strongly linked to traditional damage repair, but will build up its own foundation in smart repair/PDR as the parties believe this market will grow a lot in the years to come. Martin Nyhus will be responsible for this dedicated initiative. Martin comes from SKALA Skade & Lakk but has previously worked for MPS Bilskade which today is called the Cary Group.

Still some pieces that remain
There is a lot of work involved in gathering such a large team and although a great effort has been put in over the past year, there is still a lot left to do before all potential workshops are connected to INTAKT. At start-up, it will primarily be the current SKALA and INTAKT workshops that will connect to the chain.

Consequently, the initial objective is to transfer the ownership interests in the BOS partly-owned companies to
INTAKT. Here, too, some formalities remain, but Bertel O. Steen is optimistic.

- We believe that our increase in the value of the individual repair shops will be strengthened in any case through INTAKT and its structure in relation to what we achieve today, and that individual workshops see the advantages of being part of such a chain," said Thorbjørn Myrhaug.

Final implementation is subject to approval by the Norwegian Competition Authorities.



Facts about the parties
SKALA Skade & Lakk:
- Established in 2020 through the merger of the damage and paint operations at Frydenbø and Kverneland
- Currently owned by MyCar Group, which in turn is controlled by Frydenbø, Kverneland and Gjensidige
- Presence in western and southern Norway
- SKALA has eight workshops in the chain, four of which are completely owned and the rest partly owned, which sell for approx. 220 million kroner.

INTAKT Bilskade:
- Established in 2019 by Bertel O. Steen, Motor-Trade, Leinløkken, Foinvest and Bjørgan & Linden through the consolidation of the parties' damage and paint operations in the Trøndelag region.
- AB Persson became an owner in 2021 and marked the start of the Swedish venture
- Presence in central and northern Norway, as well as northern Sweden
- 12 workshops in the chain of which 5 are majority owned
- Currently owned by Bertel O. Steen, Motor-Trade and AB Persson Bertel O. Steen's partly-owned damage and paint business
- Several of Bertel O. Steen's dealers in South-Eastern Norway have ownership in, and strategic cooperation with, one or more damage and paint shops
- The workshops are owned and operated in cooperation with local partners
- The workshops are not connected to any network or chain structure

The chain's geographical presence: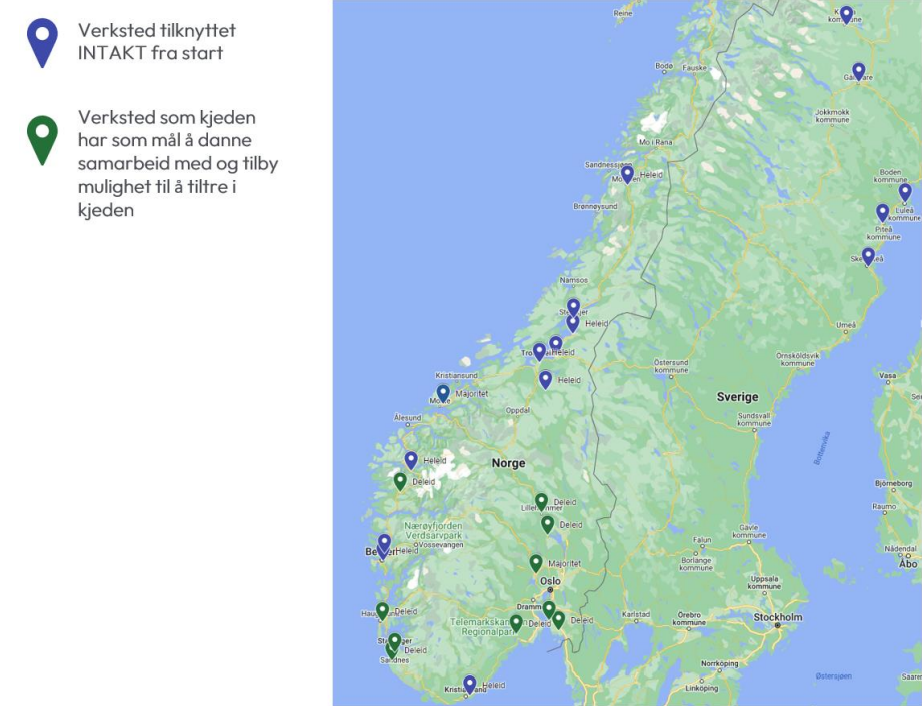 Enquiries related to the press release should be directed to Chairman Frithjof Anderssen (+47 913 81 515 or frithjof.anderssen@motor-trade.no)