The same day Brann meets Stabæk in a fateful settlement, Frydenbø turns 105 years old. On that occasion, the CEO wishes for a magical atmosphere at the Stadium - and, therefore, hands out 1,000 free tickets to the Brann supporters. Go Brann!❤
Main photo: Knut Herman Gjøvaag, CEO and owner of Frydenbø Group. Photographer: Trude Brun Wilhelmsen
Hands out 1,000 tickets!
Frydenbø Group bought 1,000 tickets to our own grandstand at Brann Stadion, on our foundation day 17 October.
– We were thinking about how we were going to mark our birthday, and what would be better than the stadium at full throttle. For that reason, we have bought 1,000 tickets at the Frydenbø grandstand, which we will hand out to the Brann-supporters to create a great atmosphere at the match, says Knut Herman Gjøvaag, CEO and third generation owner of Frydenbø.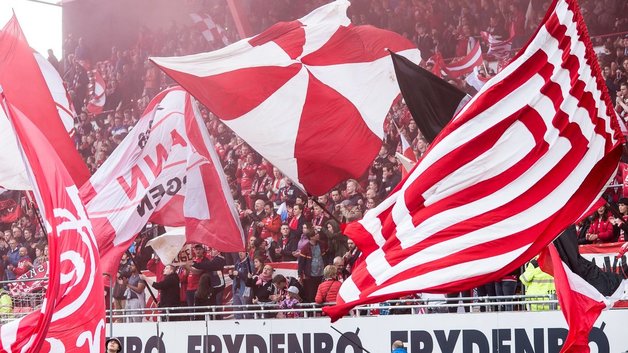 Photograph: Digitalsport, Bjørn Erik Nesse
Frydenbø is one of Branns four grandstand partners, and at the Frydenbø grandstand the singing supporters gather. This is also where "Store Stå" is placed.
– We are incredibly grateful that Frydenbø wants to celebrate their birthday by helping us fill up the stadium this weekend. We have many amazing partners, and Frydenbø has been with us for many years, says commercial leader in Brann, Therese Andvik Rygg.

– This is a fantastic initiative from one of our large and long-term partners. The atmosphere and support from the audience was crucial for us beating Kristiansund in the previous home game. The commitment from the stands will be important in the battle for three points on Sunday, says Brann coach Eirik Horneland.
Everyone has to go to the Brann match!
- "Bataljonen"s TIFO-group has been working really hard lately. They have made banners with the message "Everyone must go to the Brann match" which encourages the people of Bergen to get to the stadium for Sunday's important match in the bottom battle against Stabæk.
- When the CEO said that all he wanted was a good atmosphere at the Stadium - we quickly found out that we could contribute to the fantastic action the supporters have to mobilise to get people to go to the match. So our own birthday present was 1,000 tickets to Brann supporters in the Frydenbø grandstand for the match against Stabæk on the foundation day 17 October, says marketing and communications director in Frydenbø Group, Silje Ulla-Zahl.
Brann reports that they have sold 9,000 tickets for the match against Stabæk on Sunday. The last time this many tickets were sold for a home game was the last round of the series in 2019 - when over 14,000 tickets were sold for the settlement against Viking
- The mobilisation the supporters do is just fantastic. It is an enormous commitment, and we see that in our ticket sales, says head of marketing, communication and sustainability at Brann, Therese Rygg.
The free tickets will be posted on Thursday at 12:00 and can be found where you normally buy tickets online for Brann matches. Select the ticket type called "Frydenbø105år". 🎫