As a major player within the field of propulsion engines, we can clearly see a great need for electrification of utility vessels. We have already launched the world's first in-line hybrid propulsion solution, and have now developed an electric propulsion system adapted to our HVP gear.
Benefits with a swivel gear
Frydenbø Industri has a long history and sees significant advantages with rotatable gear solutions. Our in-house developed HVP provides opportunities for larger propellers, greater traction and better maneuverability. With electric propulsion, there is zero fuel consumption. This contributes to environmental benefits such as a decrease in climate emissions and local pollution. In addition, it provides better working conditions for the crew by reducing noise and vibrations. Operating and maintenance costs will also end up considerably lower.
With a reversible propeller, we can make the best possible use out of the engine power at all speeds regardless of load, tow, wind or current conditions. The reversible propeller system is particularly suitable for smaller vessels, as the reduction in gear ratio ensures maximum traction. Our new solution means that we retain all the conventional advantages of a swivel gear, and in addition to that, we also increase the range of the electric motors.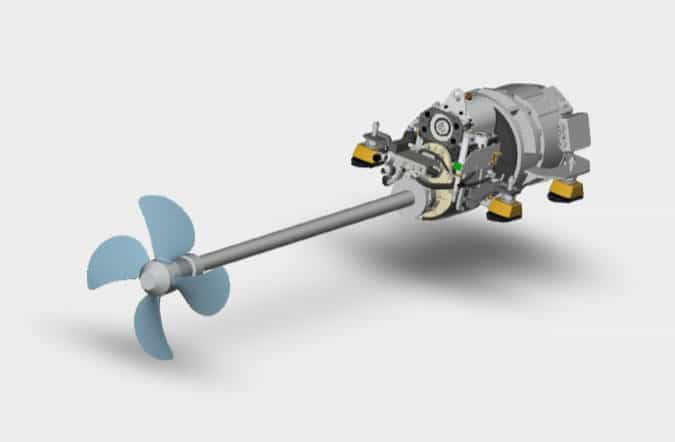 A swivel gear prolongs the battery life
Together with Danfoss' all-electric motor and our HVP gear, we now have a complete solution for zero-emission vessels that can operate in coastal areas. Danfoss electric motors are liquid-cooled and designed to operate in harsh operating environments, and they work excellently as a propulsion engine in marine vessels.

Unlike existing electric engines with fastened propellers already on the market, Frydenbø's solution will get approximately 15% better efficiency when using a swivel propeller. This causes a significant change in running time between each time the battery needs charging.
Electric engine adapted to existing gear solutions
The all-electric system that Frydenbø has developed is adapted to existing gear solutions. This means that you can easily replace the diesel engine you already have with a zero-emission engine.