PRESS RELEASE BERGEN 4. NOVEMBER 2022
The Frydenbø Group has international ambitions. For that purpose, it was necessary to divide our international industry investments into a sixth division, Frydenbø Global. Since investing in the german company, SCHOTTEL, in 2007, Knut Herman Gjøvaag has been working with the strategic development of the company, which has become the largest stand-alone propeller factory in Europe. During these years, the company has also built up a worldwide, self-owned sales and service network.
Image: Åsmund Bjørndal Heen, CEO Frydenbø Group, and Knut Herman Gjøvaag, owner and chairman of Frydenbø Group. Photo: Trude Brun Wilhelmsen
International ambitions
Over the past three years, Frydenbø has cultivated the development of five autonomous divisions in the group: Frydenbø Industri, Frydenbø Bil, Frydenbø Marine, Frydenbø Eiendom and Frydenbø NXT. The sixth division, Frydenbø Global, is set for launch in November 2022, which will be the base for international investments through SCHOTTEL, with the same location as the head office in Spay am Rhein. There will also be room for new investments and business areas in connection with this.
The investment in SCHOTTEL dates back to 2007. The company was a pure propeller manufacturer at that time, but has in recent years gone through a transformation and created more breadth in its business. Like Frydenbø, SCHOTTEL has diversified its business into new areas of electrical engineering, gearboxes, tidal energy and projects related to offshore wind, the latest addition of which is Aquos, which supplies equipment for anchoring offshore wind turbines, among other things. In May, the company also acquired the Turkish system integrator company Elkon, headquartered in Istanbul, where we can now take an even larger share of the value creation in deliveries.
Knut Herman Gjøvaag has been Frydenbø's main representative for the international cooperations. He has been closely involved in developments over the past fifteen years as active strategic owner and chairman of SCHOTTEL Maritime Group and deputy chairman of the parent company SCHOTTEL Industries GmbH. It is therefore a logical step that he takes responsibility for the new international initiative.
- It has been an incredibly exciting journey to be part of, especially related to the development of sales and service networks all over the world, and not least the realisation of the state-of-the-art factory that opened in Dörth in 2015, Gjøvaag said.
Over these 15 years, the total dividend from the investment in SCHOTTEL has contributed significant amounts to the further development of Frydenbø's new businesses in Norway.
An era has ended
After a generational change at Frydenbø Holding AS in 1993, Knut Herman Gjøvaag took over as general manager. After a break as executive chairman for five years, he rejoined Frydenbø Group as CEO in 2019. The last few years have been characterised by Covid and international unrest, at the same time as strategy and focus areas have been clarified. Economic developments in the group have also been very positive during this period.
- I am proud of what we have achieved at Frydenbø Group! It has been demanding, but good to be so close to operations in recent years. Nevertheless, I hoped to lift my gaze even more and take on a clearer ownership role. We managed to build a highly competent management team that, together with Team Frydenbø, will lift and further develop Frydenbø in Norway and around the world, so the time had come to take the next step.
Our mission, 'Value creation through generations with headquarters in Bergen', remains unchanged.
- We have recently had a strong focus on sustainable propulsion solutions in the industrial, automotive and boat industries. I now want to be a catalyst for further development and the search for good partnerships for the journey ahead, Gjøvaag said.
Åsmund Bjørndal Heen was appointed CFO of Frydenbø Group in 2018, and stepped in as CEO in October 2022 for Gjøvaag. Gjøvaag became chairman of the board.
- SCHOTTEL has previously been part of the marine industry division and may not have received the attention it deserves, considering the opportunities that lie there. Knut Herman has balanced this in a good way, but with the new organization we will be able to make even better use of Knut Herman's strengths related to development and commercialisation, Åsmund Bjørndal Heen said.
No values disappear from Norway following the reorganization. We intend to further develop the values of the company in Germany while leaving room for dividends from the Frydenbø Group when results warrant it.
Knut Herman Gjøvaag will take over ownership through his role as chairman of the board of Frydenbø Group and through board positions in all the divisions.
See the illustration below.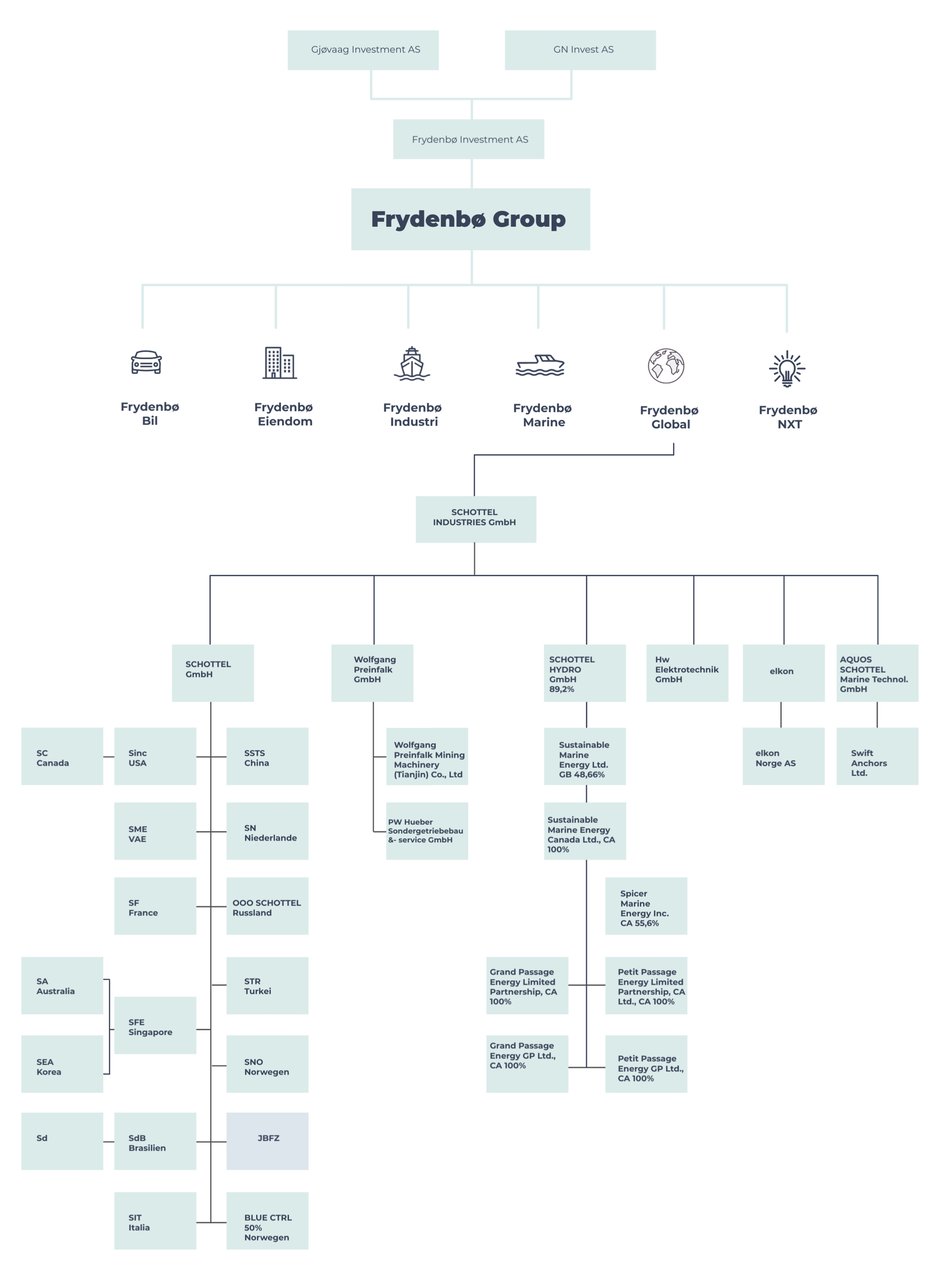 Illustration: Company structure for Frydenbø Global GmbH.
Knut Herman Gjøvaag is moving
In order to maintain ownership of the international business Frydenbø Global GmbH, Gjøvaag and his wife Lisbeth Hammer Gjøvaag are moving to Switzerland.
- I have been wanting to get closer to our international business for some time. When the pieces in terms of organization now fell into place with Åsmund taking over, we were able to put to life the plans that have been brewing a while. We will settle in the heart of Europe with short distance to our operations in Germany and to other partners in Frydenbø Industri who are already in Belgium, Italy, Holland and other places, Gjøvaag said.
ABOUT THE COMPANY:
Frydenbø® Group is a family-owned group consisting of five business areas; automobile, marine, real estate, marine industry and investment. The group employs just under 900 people and is headquartered at Damsgård, in Bergen. Turnover in 2021 was 3.5 billion kroner.
Any questions related to the information should be directed to Silje Ulla-Zahl, Marketing and Communications Director for Frydenbø Group, by e-mail suz@frydenbo.no.