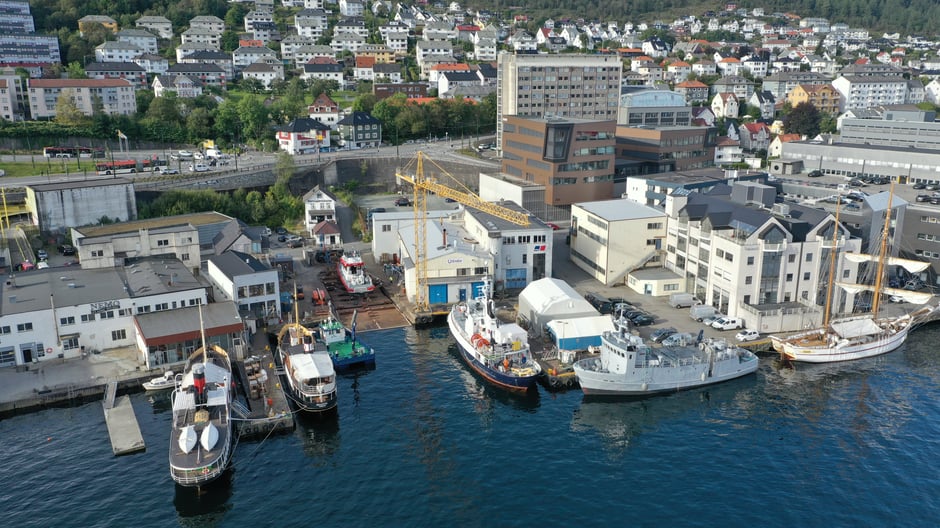 PRESS RELEASE BERGEN 20 JANUARY 2023
Together with LAB Eiendom, which is a part of the AF Group, Frydenbø Eiendom AS has purchased 100% of the shares in Skjøndals Eiendom AS and thus secured centrally located properties in Damsgård.
Main image: Skjøndals Eiendom in the centre of the image. Frydenbø Eiendom's properties to the left and the right of the slipway property. Photo: Privatmegleren
Slipway operations at Damsgård since 1902
Damsgård has historically been an important area for the maritime industry. Frydenbø started its slipway operations at Damsgård in 1916, while Skjøndals Eiendom AS has had slipway operations on its property since 1902.
- There have been slipway and workshop operations on these properties for over a hundred years and we have a proud and somewhat unique industrial history here in the district of Indre Laksevåg. It is nice that it was our neighbour, Frydenbø, who, together with LAB Eiendom, ended up buying the company," says Jan Sverre Røsstad, Chairman of Skjøndals Eiendom AS.
The seller of Skjøndals Eiendom AS is Damsgård Eiendom AS. Commercial broker Yngve Fløisand at Privatmegleren assisted Damsgård Eiendom AS with the sale.
The company includes the properties at Damsgårdsveien 114, 115, 117, 119 and 121 and the plot of around one acre has a property mass of approximately 2,500 sqm. The property is leased in its entirety to Endur Maritime AS which is a part of the listed company Endur ASA.
- These are strategically located properties close to the city centre which will further bolster our presence at Damsgård. We look forward to further developing the properties together with Frydenbø Eiendom," says Tore Grimstad, Managing Director of LAB Eiendom.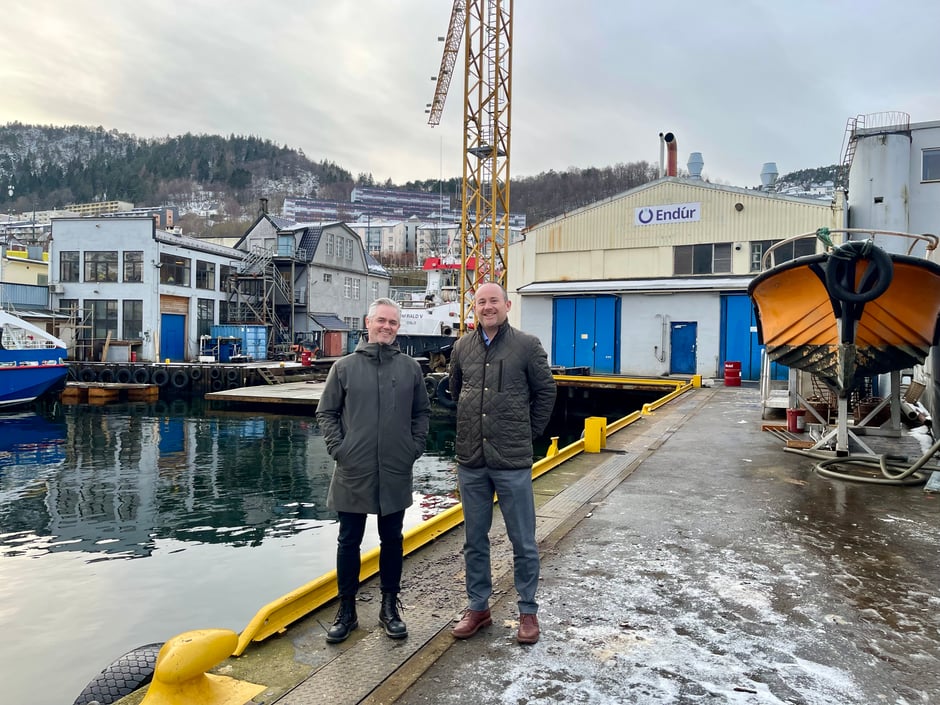 Picture: Tore Grimstad, Managing Director of LAB Eiendom and Åsmund Bjørndal Heen, Chairman of Frydenbø Eiendom AS. Photo: Frydenbø.

Natural expansion of the business cluster at Damsgård
Frydenbø Eiendom already has several commercial properties at Damsgård, stretching from Damsgårdsveien 111 to Damsgårdsveien 143. The company's head office is located at Damsgårdsveien 135. These properties are owned in their entirety by Frydenbø Eiendom AS. This case marks the first time Frydenbø Eiendom has collaborated with LAB Eiendom on the purchase of a property.

- The AF Group via LAB Eiendom is a solid and professional actor to work with and we look forward to collaborating with them around the properties in Damsgårdsveien. For us here at Frydenbø Eiendom, Skjøndals Slipp is a natural extension of the property portfolio we have built up at Damsgård, says Åsmund Bjørndal Heen, Chairman of Frydenbø Eiendom AS.
Contact information:
Frydenbø Eiendom – Åsmund Bjørndal Heen
LAB Eiendom – Tore Grimstad
Skjøndals Eiendom – Jan Sverre Røsstad
Privatmegleren – Yngve Fløisand

For other inquiries: Silje Ulla-Zahl +47 928 35 966